Diploma in Hair & Media Make-up
Diploma in Hair & Media Make-up
Diploma in Hair & Media Make-up
Our Diploma in Hair & Media Make-up (City & Guilds UK Level 3) prepares our students with all the skills needed to perform make-up in bridal, commercial, stage, filming & movie, special effects, to name a few. This course combines all the syllabus of S & Co. Makeup Academy, City & Guilds UK and SKM (Level 2 & 3).
This course is suitable for beginners with no prior make-up experience, persons who are passionate about art, office executives, students, etc and intend to gain a globally-recognised Diploma in Makeup certification as well as a Sijil Kemahiran Malaysia (SKM).
Normal Course Fee: RM16,800
Promo Course Fee: RM13,800
Duration
580 hours, approx 7-9 months
Schedule
Full Time, Mon-Fri
Certifications
City & Guilds UK, SKM & SCMA
Level 1 Foundation Beauty Makeup & Hairstyling
• Skin Theory
• Personal Image Makeup
• Bridesmaid Elegant Makeup &Hairstyling
• Elegant Mom Makeup & Hairstyling
• Male Personal Grooming Makeup
• Eyebrow correction and its perfection
Level 2 Professional Bridal Makeup & Hairstyling
• Bride Styling Theory
• Korean style Atmospheric Bride Styling
• Gentle Traditional Chinese Bride Styling
• Japanese Style Graceful Bride Styling
• Glamorous Bridal Hairstyling
• European Gorgeous Bridal Styling
• Latest Trend Light and Airy Makeup Styling
• Bridal Styling Reproduction
Level 3 Advanced Bridal Makeup & Hairstyling
• HD Airbrush Technique Theory
• Youthful Base Makeup Tutorial
• Airbrush Artistic Makeup
• Airbrush Maintenance and Cleaning
• Advanced Fair-Skinned Makeup
• Casual Hairstyling
• Themed Event Styling
• Commercial and Advertising Makeup
• Basic Colour Theory
Level 4 Fashion & Photographic Makeup
• Basic Colour Theory
• Magazine Makeup and Hairstyling
• Avant-Garde Stage Styling Design
• Photography Makeup Styling
• Shimmering and Glittering Style Styling
• Vintage Starlet Styling Design
• Smoky Eyes and Glamorous Makeup
• Late Autumn Atmosphere Photography Styling
• Fantasy Creative Makeup
Level 5 Creative Makeup & Special FX Makeup
• Body Painting Art
• Halloween Makeup
• Character Makeup
• Bruise Makeup
• Abrasion Makeup
• Finger Displacement
• Skin Burns
• Cuts and Wounds
• Claw Marks
• Movie Gunshot Wounds
• Hollywood Zombie Makeup Transformation
• Theatre Old Age Makeup
Airbrush Makeup
• Airbrush Operation Techniques
• Basic Maintenance and Cleaning Steps for Airbrush
• Airbrush Foundation Application, Contouring, Highlighting and Blush Techniques
• Airbrush Body Painting and Facial Art
• High-Definition Foundation with Airbrush
• Achieving Long-Lasting Makeup Without Caking with Airbrush
• Creating Exquisite, Flawless, and Lightweight Foundation
• Innovative Airbrush Design Styles
Full set of high-quality makeup brushes, scissors, eye stickers, eyelash curler, eyelash comb, eyeshadow applicators and spatula.
Make-up foundation, concealer, lipstick, eyeshadow palette, contour palette, creative colourful body & face powder paint palette, eyelashes and eyebrow pencil.
24-color body painting kit, special effects injury makeup kit, special effects blood plasma, skin wax, liquid latex and SFX sponge.
Mannequin head, elastic bands and hair clips.
Makeup box and school uniform.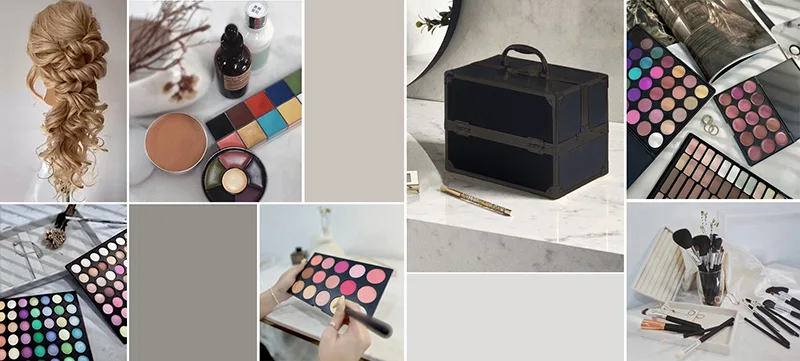 Remarks:
1. Photo above represents part of the entire free gift. Please refer to the itemised description for the complete free gifts items.
2. Consumables are not included, such as tissues, cotton pads, primer and personal skincare products.
3. Specific clothing or gowns and other items required for exams are not provided.
Certificates & Advancement
The Diploma in Hair & Media Make-up Course is certified by:
City & Guilds UK (Level 3) and
SKM (Level 2 & 3).
Upon graduation, our students may further their studies to attain a Bachelor's in Arts certificate in the United Kingdom through the UCAS platform.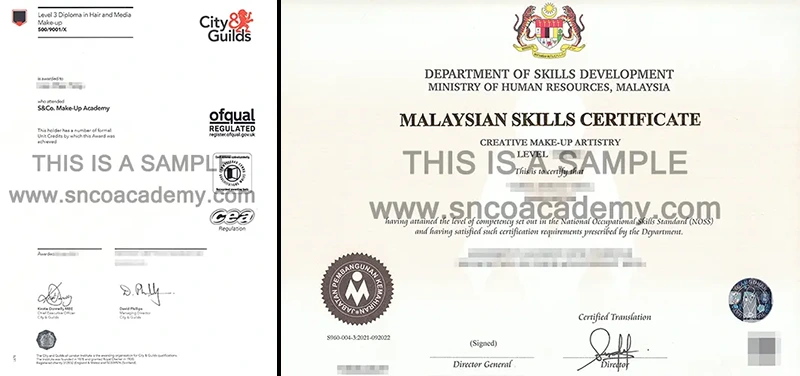 Frequently Asked Questions