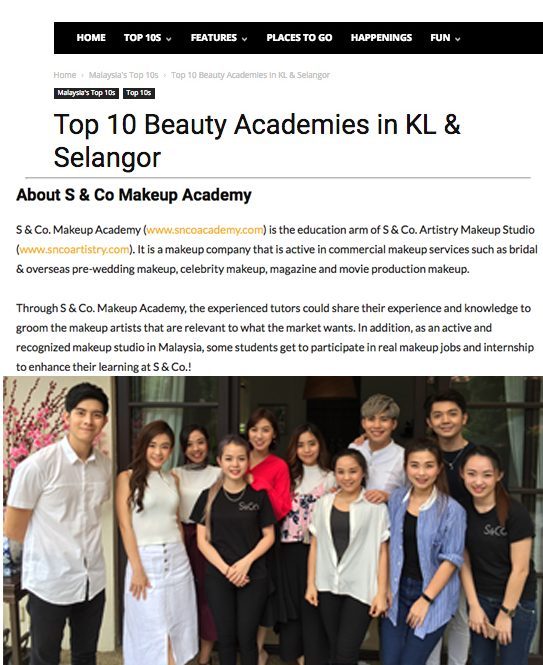 Having makeup on is akin to having art using the face as a canvas. Furthermore, many would agree that the power of having good makeup has great impact. There may be many tutorial videos out there that teaches you how to put on makeup. However, it is not quite the same as lessons or classes that allow you to be hands on to cater towards different skin tones and condition. S & Co Makeup Academy provides formal education on makeup skills which enables practical learning and practicality.
About S & Co Makeup Academy
S & Co. Makeup Academy (www.sncoacademy.com) is the education arm of S & Co. Artistry Makeup Studio (www.sncoartistry.com). It is a makeup company that is active in commercial makeup services such as bridal & overseas pre-wedding makeup, celebrity makeup, magazine and movie production makeup.
Through S & Co. Makeup Academy, the experienced tutors could share their experience and knowledge to groom the makeup artists that are relevant to what the market wants. In addition, as an active and recognized makeup studio in Malaysia, some students get to participate in real makeup jobs and internship to enhance their learning at S & Co.!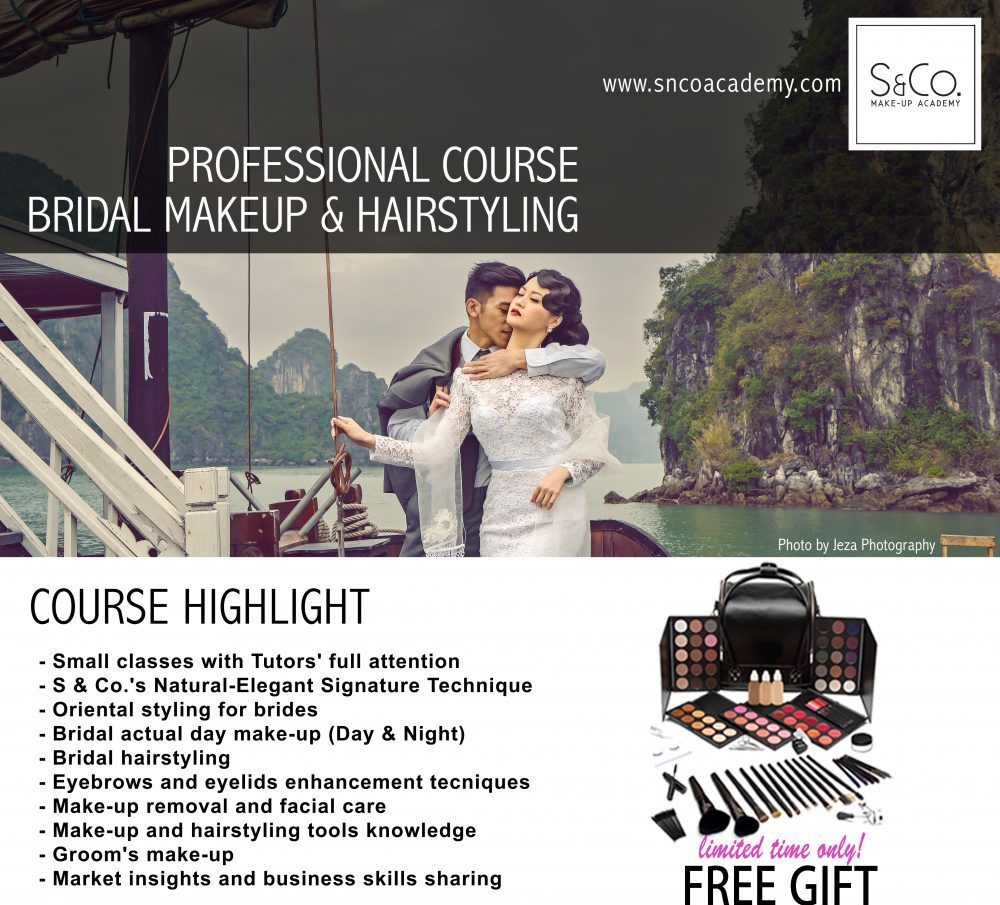 Highlights of The Academy
Many students come to them after appreciating and admiring the makeup portfolio of S & Co. Artistry Makeup Studio. They believe it is the Natural-Elegant signature makeup technique that gives them a strong differentiation from their competitors. Furthermore, they take great pride in offering one of the best Professional Bridal Make-up & Hairstyling Course in Malaysia. Every Tutor in the course is still actively engaged in bridal make-up services, who are more than generous to share their experiences with students who are esteemed to build their career as a professional bridal make-up artist. Students who wish to enhance their learning often extend their learning through the Master Makeup & Hairstyling course, where more fun and exciting makeup techniques are taught to unleash the creativity in makeup for stage performances, special effects and many more.
Finding Beauty Through Hardship
The story began with the relentless passion the founder, Ms. Syezen has for makeup. She has been on a crazy journey to learn makeup skills since graduating from high school. From enrolling herself into part-time makeup classes to volunteering as an apprentice to polish her skills further.
Additionally, as a scholar in Mass Communications, Ms. Syezen's acquaintances in school became her gateway to the industry where commercial makeup services were needed. Therefore, she was able to capitalize on this entrepreneurial opportunity, through the establishment of S & Co. Artistry Makeup Studio. The makeup education classes started more than a decade ago when Ms. Syezen needed to train more qualified makeup artists to help her with the fulfillment of all the commercial makeup services.
More Than Just Skin Deep
Their most popular course is none other than the Bridal Makeup & Hairstyling course, due to the industry recognition and awards acquired over the decade. New students often join the Academy without prior background or knowledge in makeup yet they are able to graduate with the Natural-Elegant signature technique for bridal and overseas pre-wedding makeup service. Despite that, the academy is more than just a cozy place to learn makeup. They provide comprehensive makeup courses to inspire their students' creativity and innovation in makeup whilst providing practical learning, real industry experience. Not forgetting, current on-demand skills with the latest trends and techniques is essential to succeed in this exciting yet competitive industry.

The Academy as A Supporting Foundation
They have been invited by Media Prima Berhad to participate in the makeup service for all the celebrities involved in the 8TV/NTV7 Chinese New Year 2018 MTV. Additionally, they have been featured and nominated in various bridal magazines. Due to strong collaborations with various international organizations, students have the opportunity to participate many real world events, which serves as a robust foundation to help jump-start their new career life with a reputable company.
The academy hopes to see all the students who graduated from the Academy, to do well in their career. Furthermore, they are proud to assist their Alumni to succeed along the way. For those who are looking to fulfill their dreams, do take little steps to approach them. Take a leap of faith and you may be surprised from the first moment you step into the S & Co. Makeup Academy.
"Knowledge is gained first from sharing. By generously sharing knowledge and experience, the Team at S & Co. Makeup Academy often learns new things from their students. They yield satisfaction and joy in their teachings when graduate students land themselves a good makeup career. Hence begins their entrepreneurial journey of being a makeup artist."
S & Co. Makeup ACADEMY